Discover the ideal balance between independence and support at Cogir of Vallejo Hills. We strive to honor the unique needs of each of our residents and provide a welcoming environment where comfort, fun, and meaningful connections thrive. We offer both independent and assisted living in Solano County - call us today to join our campus-style community!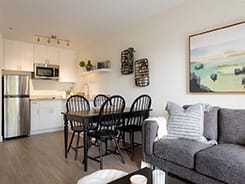 Accommodations and Services
Choose from spacious, one- or two-bedroom apartments floorplans in this campus-style community with spectacular San Francisco views.. All include utilities, cable, concierge service, housekeeping and laundry.. And we're pet friendly!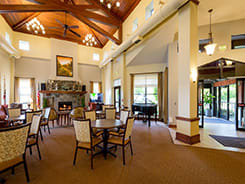 Layout and Amenities
Stroll through our courtyard or walking paths with fountains. Enjoy the library and Country Store or reflect in the chapel. Gather with friends old or new around the piano or catch up in the fireplace lounge. You'll find complete WiFi coverage in all common areas. Plus, plenty of parking.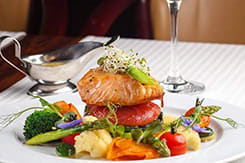 Food Services
Restaurant-style service is offered in all day in our dining room by our professional serving staff. Our excellent chef offers a choice of farm-fresh, locally sourced ingredients from a nutritionist-approved menu. Community kitchen and private dining room also available.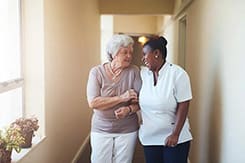 Care and Assistance
Our care services are tailored to changing needs and include transportation to medical appointments, mobility, dining, hygiene and dressing assistance. We also provide medication and incontinence management, as well as diabetes assistance.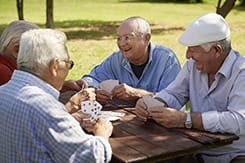 Activities and Leisure
Choose from a variety of scheduled activities like Ping Pong, activity room, puzzles and board games, music and film evenings, health talks, learning and teaching events. Bus and van transportation is available, as well as excursions to special community events, coastal tours and waterfront walks.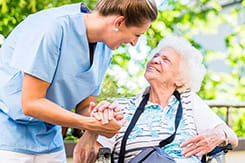 Safe Environment
Resident safety is a top priority. From 24-hour security to an on-site nurse to surveillance and emergency response throughout the fenced property. Emergency pendants are available for added security. To ensure cleanliness, we exceed all state sanitation guidelines.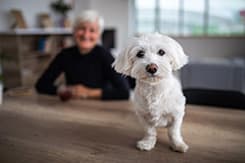 Pet Friendly
A pet's unconditional love brings joy and companionship to the lives of many seniors. Our welcoming pet policy underscores the importance of the strong bond between pets and their owners.
Vallejo, CA Senior Living
Located on the hillside and surrounded by breathtaking bay views, our beautifully landscaped grounds are the perfect leisure spaces. Fountains, leafy trees, and plenty of grassy areas invite you to enjoy a vibrant day outdoors. Lively common areas, fun activities and social events week-long are the hallmarks of living here – some of them being luaus, happy hours, and casino nights. Pick up your favorite read from the library, learn to play the piano, or check out the Country Store. An abundance of mouth-watering dishes prepared from fresh, locally sourced ingredients are served every day. Nutrition is just as important, which is why our meal plans are always balanced and created by registered dieticians to ensure you stay healthy and energized.
You're free to socialize, relax, and pursue your passions. Stroll along the walking paths in the evenings, gather with friends at the fireplace lounge, or stay connected thanks to the complete Wi-Fi coverage in the common areas. Safety is also main priority, which is why we have on-site nurses, as well as 24-hour security and a team ready to step in for any emergencies.
As a leading provider of independent living in Vallejo, we offer all the household amenities needed for a comfortable life. Our pet-friendly homes enjoy soothing designs with warm tones and elegant finishes. Light-filled rooms, generous living space, and cozy bedrooms are there to maximize your wellbeing. Assistance with dressing, hygiene, mobility, and medication is guaranteed when needed, along with bus and van transportation.
Turn the golden years you've always dreamed of into a reality. Give us a call today to find out more about our assisted living community.
Testimonials
Cogir of Vallejo Hills Senior Living is amazing. The staff has been great. Mom's room is clean and nice. They have bingo and lots of activities every day. They have an exercise room, activity room, hair and nail salon, store, and library. The facility is very well maintained, and there are beautiful flowers everywhere. She loves the food, and she's already gained weight. There's a great variety of food, and she doesn't have to be in the dining area at a certain time.

- Donna - Caring.com
My mom stayed at Cogir of Vallejo Hills for a year then we moved her because she was starting to get lost, as it's quite a large facility. The place was fine. She got very good care while she was there. The issue was not the place; it's just my mother. The staff was very informative and communicated with us very well. Any time we went there, they were clean. The décor was very nice, and they created a good atmosphere. I think we got what we paid for. A good setting, very peaceful, and quiet.

- Rose - Caring.com
The value for the money is what sticks out the most to me, there is no comparison. It is a high end area and the apartments are very large and spacious, I am comfortable here. The grounds are just beautiful, my balcony off my apartment looks out to a fountain with flowers and tall trees and it is lovely. Overall it has been a good experience.

- Anonymous - SeniorAdvisor.com